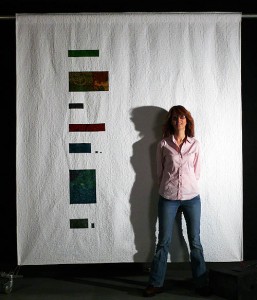 Karen took up quilting to recycle fabric she couldn't bear to part with, and a practical art became a passion.
After a few years of quilting on her own with techniques learned from library books and PBS, Karen took a bold step from scrappy patchwork. Integrating modern, minimalist design with traditional quilting techniques she began making the kind of quilts she had always longed to create. Her original fabrics explore color with textile painting, sun printing, rust dyeing, fabric pastels and discharge dyeing. Focus on surface design has opened another dimension to her quilting through embroidery, trapunto and fabric origami. Current mixed media works feature such elements as functional electronics and yak bones. She has at last embraced her fear of that most daunting of forms, the circle.
Perhaps spiders will be next.
Guilds :
Courtepointe Quebec Quilt (CQQ)

Inspirations and Resources :
Byerpatch Studio – art quilts
Day Style Designs – impressive free-motion quilting tutorials that take domestic machine quilting to a whole 'nother level.
Deux Petites Souris – modern quilts
Dimacquilt– quilt appraisals
Doodle Press – gorgeous quilts, fantastic patterns; love the Radiant Suns templates!
Fabric– quilting cottons and much more
Farbstoff – modern quilts
Film in the Fridge – modern quilts
Fresh Lemons – modern quilts
Geta's Quilting Studio – stunning shadow trapunto
Green Fairy Quilts – mind-blowing longarm quilting
Handmade by Alissa – modern quilts
I'm a Ginger Monkey – modern quilts and more, great free tutorials and patterns
Jenniverre – beautiful stained glass, and more
Mutapic – brilliant design tool created by Sylvain Moreau, and Wotomoro – his awesome gallery
Oh, Fransson! – modern quilts
Quilters Cache – huge library of free patterns; love the paper piecing printables!
Quilting is my Therapy – dazzling long arm quilting
Red Pepper Quilts – modern quilts
Sew Kind of Wonderful – super cool modern quilt design and patterns, stupendous longarm quilting; love the Quick Curve Ruler!
Sew, Mama, Sew! – modern quilts, loads of cool free patterns and tutorials
Tallgrass Prairie Studio – modern quilts
The Travels of a Quilter –  Check out Dianne Robinson's awesome blog, be inspired.
The Charming Needle – modern quilts and more
Twizzelle – lovely longarm quilting gallery
Quilting Fabric :
Courtepointe Claire – everything you'll need to make a quilt, lovely Montreal area shop
Fabricworm – awesome modern prints and organic cottons
Fat Quarter Quilt Shop – modern quilting fabrics, pre-cuts
Hancock's of Paducah – quilt shop extraordinaire
Keepsake Quilting – quilt shop of my dreams
Mad About Patchwork – wonderful online fabric store for modern prints, Kona solids, etc.
Spoonflower – send your own original design or choose from the hundreds available on Spoonflower and they'll print it on the fabric of your choice!