Completed quilts and pillows :  ready-made for quick delivery. Contact Karen for more info on these one-of-a-kind quilted pleasures.
Early Bird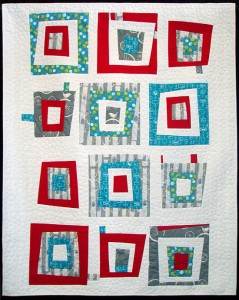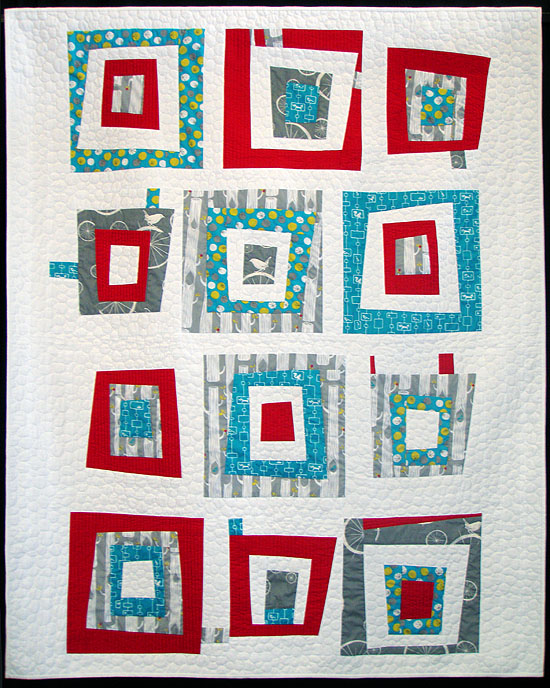 Cool retro prints by Birch Fabrics Organics make beautiful music with Robert Kaufman Pure Organic solids in this wonky log cabin quilt. The extraordinarily soft cottons are GOTS (Global Organic Textile Standard) certified, produced without pesticides and coloured with low impact dyes. And don't even try to resist the luxurious drape of the silk, bamboo, cotton and Tencel®  blend batting! Tencel® is made from eucalyptus wood pulp derived from sustainable tree farms. This new fiber is exceptionally strong, soft, resilient and resistant to wrinkles, perfect with these awesome fabrics. Lovely for napping, and reversible too!
size :  51" x 62"
materials :  top, back and binding 100% organic cotton, Quilters Dream Orient blend silk, bamboo, cotton and Tencel® batting, pieced with Coates 100%  cotton thread, quilted with Superior Threads 100% polyester So-Fine thread
techniques :  pieced and quilted by machine, free-motion quilting (large white pebbles on white, red ¼" parallel lines on red, invisible thread SID), double-fold binding attached by machine and meticulously stitched by hand to the back for a smooth finish
price : $450
Neapolitan Ice Cream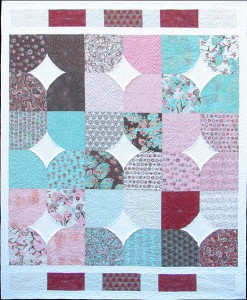 The perfect napping quilt! Moda's Basic Gray "Blush" layer cake shines in classic Cathedral Window blocks. This updated block technique features a lovely 3D frame around each curved cross-hatching inset in soft ivory. Densely textured quilting gives the other side traditional whole cloth appeal.
size : 57″ x 68″
materials : top, back and binding 100% cotton, Polyfil 100% organic cotton batting, assembled with Gütermann 100% cotton thread, quilted with Superior Threads 100% polyester So-Fine thread
techniques : pieced and quilted by machine, free-motion quilting with feathers, ¼" curved cross-hatching and swirls motifs; double-fold binding attached by machine and meticulously stitched by hand to the back for a smooth finish
price : $450