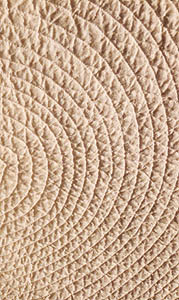 For the pièce de résistance to complete your room, the perfect gift for that special occasion.
Karen will help you select the fabrics, quilting textures and design details for the custom quilt of your dreams.
Contact Karen directly by email for more information about her functional art quilts.
Special commissions accepted.
Original design
An element of improvisation makes every quilt one of a kind.
Each quilt in its series features a new interpretation of the original design. No two are exactly the same.
Free-motion quilting motifs are unique to each piece.
Hand-painted fabrics explore color through a range of techniques, with dramatic and wonderfully unpredictable results.
All quilts are signed and dated.
Exquisite details
embroidery : Stitching in colorful cotton and specialty threads enhances surface design. By hand or machine.
fabric origami : Features intricate hand work. Each block is meticulously folded and hand stitched before assembly into quilt. Stunning 3D effect.
trapunto : Elements of the design are carefully stuffed with a double layer of batting for extra fine texture and classic style. Heirloom quality.
Features and Process
Fine fabrics :
100% linen
soft 100% bamboo, high thread count 100% cottons and lovely blends
luxurious 100% dupioni and shantung silks
cotton, silk and shimmery polyester threads
high quality wool, bamboo and cotton batting
Workmanship :
All seams are pressed open and curves painstakingly set-in for even wear and smoother touch.
Dense quilting gives quilts extra dimension and durability.
Sturdy double-fold binding with mitered corners is hand-stitched to back of all quilts.
Completed linen, bamboo and cotton quilts are machine washed and dried to bring each to its final size and give it that wonderful dimpled texture.
Memory quilts
Memory quilts are made to be treasured. Each is custom made and created to honor a special event or person. Include some of your own keepsake fabric (flannel pyjamas, silk ties, fine linens, favorite t-shirts), for a quilt that tells its own story. Embellishments (photos transferred to cloth, buttons, other memorabilia) can also be incorporated into the design.
Many traditional patchwork blocks, as seen in the 9 Patch, Pyjama Party and Karl Terrence designs, are wonderful for memory quilts. Contact Karen with your own design ideas for your quilt, or for more information on memory quilt options.
Quilt care
Normal Use
Quilts should not be displayed in direct sunlight.
Do not iron quilts. Use steam on wrinkles, never letting the iron touch the quilt.
Quilts displayed on the wall should be taken down periodically to relax fibers.
Cleaning
Linen, cotton and bamboo quilts can be washed in front loading machine with mild soap in cold water, delicate cycle. Air dry flat or machine dry on low setting.
Dry cleaning is recommended for silk quilts. They can also be washed in front loading machine with mild soap in cold water, delicate cycle and air dried flat. Washing will take some of the crispness from the silk. DO NOT DRY IN MACHINE. Machine drying will cause about 15% shrinkage and permanently damage the quilt.
Mixed media quilts may be hand-washed only, with mild soap and cold water. Do not wring out, air dry flat. Do not iron.
Storage
When folding quilt for storage, stuff folds with acid-free tissue paper to minimize creases and broken fibers. Do not store quilts in plastic bags or boxes; the fibers need to breathe. Folded quilts are best stored inside 100% cotton pillowcases. If quilt is to be stored in wood, be sure to wrap it well in acid-free tissue paper to avoid the wood damaging the fabric over time.
Stored quilts should be periodically aired out and refolded differently to prevent permanent creases on fold lines, and the resulting broken fibers.